When you draw illustrations with characters as the main subject, it's the facial expressions that get you fired up.
In this article, I'd like to introduce some major points for drawing a "prickly" face.
The main points to be aware of are the eyes and the mouth.
Once you grasp these two points, you'll be able to draw a great prick face!
Now I'd like to show you some tips on how to draw scary and ghastly faces.
1. Introduction
The basic idea of a scary face is to make the parts of the face asymmetrical.
Asymmetry gives the face a distorted expression, which can be used to create a powerful and scary look.
In the previous article, I only introduced one face pattern, so this time I would like to introduce a variety of patterns.
[Facial Expressions] How to Draw Handsome Villan Face.
2. Eyes
The most important point is "eyes".
It's the point where you get the most enthusiastic when looking at a character illustration.
If you make a left-right difference in the way the eyes open, the face will look distorted and scary.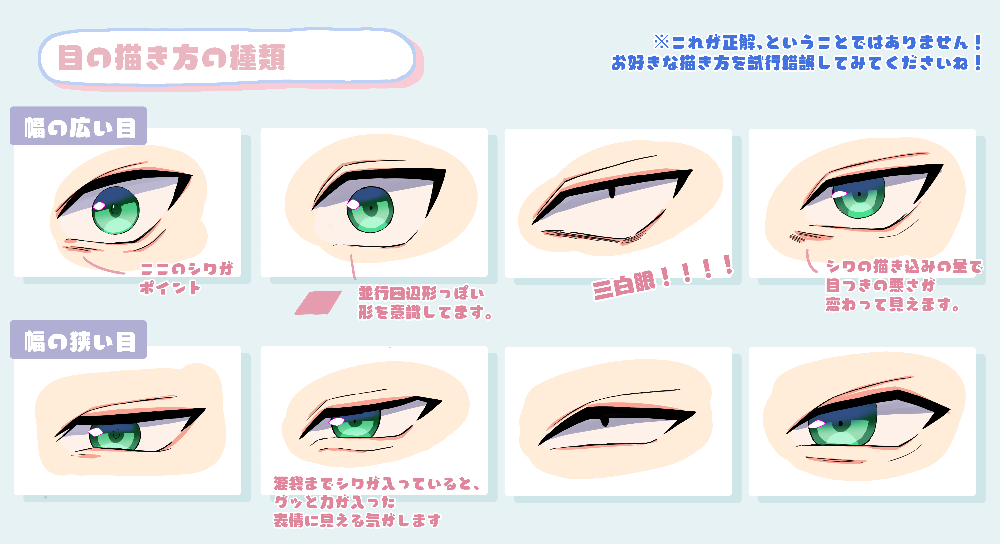 Once you have decided on the parts of the eyes, you can change the width of the eyes or the size of the pupils to make the atmosphere look different.
If the whites of the eyes are prominent, it gives the impression that you are staring at them.
3. Mouth
When you open your mouth wide, if you can see your teeth, it increases the reality and makes you look more like a prick.
The width of the mouth should also be different from side to side to create an expression that uses the muscles of the face.
The teeth to be aware of are the canine teeth.
You may want to stick out your tongue to make it more scary.
4. Summary
What did you think?
There is no right or wrong way to draw facial expressions, so please try to draw your favorite prickly face!
(Text and pictures by Mido Hachino)
Twitter / https://twitter.com/hachino_mido