2019.07.26
Change the color of the outline by protecting Alpha!
Have you ever felt the outline was too prominent after painting your illustration?
When you want to change the color of your outline, try using the "protect Alpha" function!
Today, we are working on a windows computer, but this function also exists same way on a mac, an iPad, or an iPhone or Android phone.
What does "protect Alpha" mean?
"Protect Alpha" is a feature that protects the transparency on the layer.
You will only able to draw on areas that have been illustrated to be opaque.
This is a useful tool for when you want to color only those areas that you have drawn.
When you use "protect Alpha" with digital paint, you will be able to access a wide range of expressions!
▼Without Alpha protected▼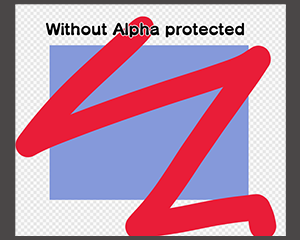 ▼With Alpha protected▼

You can turn "protect Alpha" on or off by ticking the box in the top section of the layer window.
Try making the color of the outline blend in with the surrounding color!
Ok, so let's try protecting Alpha and changing the color of the outline!
This is the image we've prepared for you.

The lower image has been colored. You can see that the outline is black, so it stands out.
This is where "protect Alpha" comes into play.
First, protect the Alpha of the outline layer.
Check that you have ticked the "protect Alpha" box!
If the box is ticked, you can go ahead and paint the outline layer.
The trick is to use the eyedropper tool to select the color surrounding the outline and to use a slightly darker color.
You can also use the color picker.
The image below shows the result.
To make it easy to understand, we've use a color that stands out a little, but you can see that the the outline has blended into the image.
When you look at the outline only, it looks like the image below.

It is also good to try making the outline color a single color other than black.
If you want to do this, first protect Alpha in the outline layer, then select fill from the layer menu and you will be able to apply the color efficiently.
▼When you have change the outline in a single color▼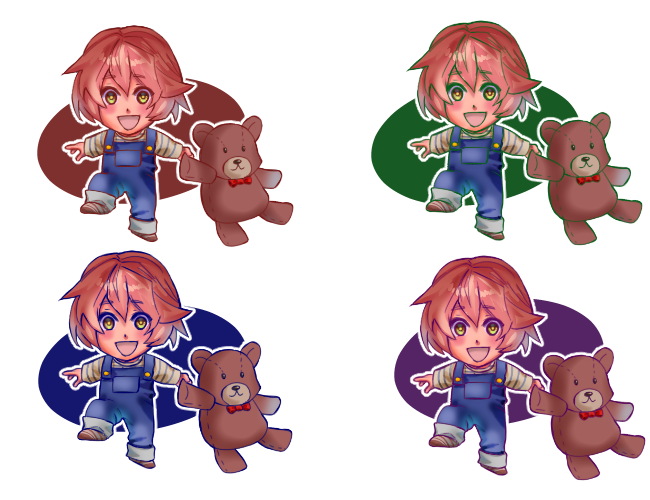 The color of the outline can also be changed with a clipping
The above method is not the only way to change the color of the outline. You can also create a new layer and clip it to the outline layer, then paint the outline and the layer separately!
Change the color of the outline in a way that's easy for you!
\ We are accepting requests for articles on how to use /
Download now for free
Download MediBang Paint