2014.12.25
A lot more materials have been added! It's now possible to turn drafts into Manga!
CloudAlpaca Ver.1.2 has been released.
More materials and draft sharing are now available.
1Due to popular demand high resolution screentones(equivalent to A4 600dpi) have been added.
In addition, 90 background materials such as townscapes and amusement park rides have been released!
Cumbersome work such as drawing backgrounds becomes super easy with 'CloudAlpaca'.
More background materials will be added in future updates.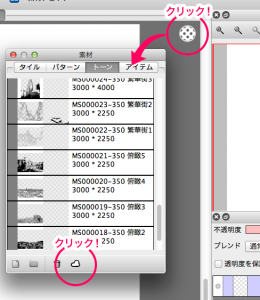 2Drafts made on 'MangaName' can be brought into 'CloudAlpaca' and be used to create a project.
When opening a draft on 'CloudAlpaca', if you select 'Produce a new Manga project based on draft', you can create a new Manga project using your predrawn drafts from MangaName. You can sketch pages in 'MangaName' and ink them in CloudAlpaca. The linkage system between the two applications has become easier and smoother. Producing Manga has never been easier!