2021.06.18
MediBang News Vol.2 ART street Posts Sharing Techinques!
Hello everyone!
This is MediBang Paint Development Team insider #4! ?
This is MediBang News Vol. 2, and this time I'd like to introduce you to some tips on how to get your illustrations posted on ART street seen by many people!
And one last thing!
I'd like to share with you what we're working on at the MediBang Paint Development Team.
that we are currently working on.
---
First of all, for those of you who don't know what ART street is, I'd like to give you a brief introduction.
ART street is a website run by MediBang, where you can post your illustrations and comics.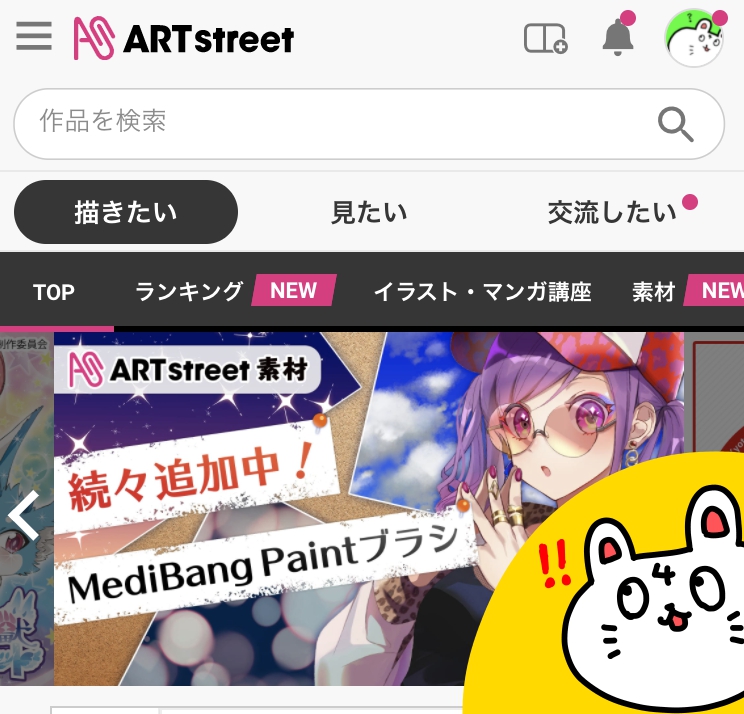 The login account you use for MediBang Paint is also your ART street account, so if you've already registered an account, please touch it ?.
If you haven't registered yet, it's free, so please do so ?.
By the way
You can register for free? ★ By the way, you can post to ART street directly from MediBang Paint.
I'd like to share with you a few tips on how to get more people to see the illustrations you post on ART street! It's a secret ?.
This is the information as of June 2021.
Point #1
Participate in a campaign or contest!
If you don't have a lot of followers on ART street, I suggest you start by participating in some of the campaigns or contests!
It's much easier to get your work seen than posting it in the wild.
If you feel that contests are too difficult to participate in, we recommend you to participate in campaigns.
Point #2.
Think about how your illustration is shown as a thumbnail!
※This is only for illustration.
Most of the thumbnails on the illustration list page of ART street are cropped to a square.
Most people decide whether or not to look at an illustration based on whether or not the thumbnail is attractive.
Therefore, one of the most important points is to make sure that the thumbnail looks good.
For example, a vertical illustration will be cut into a square from the top, while a horizontal illustration will be cut from the center.
Point #3.
Post often!
It is very important to post frequently and let people know about your work.
By the way, one of our users who has been posting almost every day caught the attention of ART street staff and was introduced in a big illustration feature!
(ART street staff are watching all of you. ? ) You can start by posting at least once a week?.
Point #4
Interact with other users!
Let's try to increase the number of people who can see your illustrations by interacting with them on ART street, such as leaving likes and commenting on other users' wonderful illustrations!
Of course, it is not polite to try to communicate with someone you do not feel interested in or respect.
"I like this person's work!"
"I like this person's writing!"
If you feel respect for someone, try to interact with them with goodwill and respect.
If you do this, the other person will probably respond to your work in a positive way (like, comment, share on SNS, etc.) ?.
Point #5
-For those of you who want to go further, here's a secret tip.
Draw pictures without sexual elements. If you want to be a part of it, you need to make sure you have a good understanding of it.
ART street has a unique system called ART street ranking, which is a dream come true where the higher your rank, the more chances your illustrations seen by more people. However, there is a very important point to note.
If the illustration is even slightly contained sexual elements, it will be excluded from the ranking.
This is because ART street is supported by people from all over the world, including countries where sexual expression is strictly prohibited.
It is also related to the "everyone's submissions" displayed on the MediBang Paint app.
If sexual illustrations are displayed, the app may be banned, so we can't publish them for that reason as well.
For these reasons, sexual illustrations are not displayed in the ART street ranking.
In other words, the possibility that people don't see them.
Therefore, one of the key points to get your work seen by many people is to submit illustrations without sexual elements!
By the way, ART street's sexual judgment is based on the world standard, so it is very strict.
It is also good to keep in mind that there may be a big difference between the sexual judgment line that you think and the sexual judgment line that the world thinks.
For example, even if your character is wearing clothes, if the character's breasts or thighs are deliberately emphasized, your illustration will often be judged as
a sexual illustration.
---
That's all!
What did you think?
I feel that we creators are such sensitive kinds of people that we can't maintain our motivation without the warm response and support of the people around us.
I hope you, fellow creators, will use these points to motivate yourselves for tomorrow!
The next MediBang News Letter is scheduled to be sent out on July 16, 2021 (Friday) . *JST
See you soon ?!
---
【This month's MediBang Paint Development Team】
We are currently creating content for users who are at the level of "I don't know how to use paint apps…!
This is going to be something that you can learn from the very basics, a level that is hard to be taught in other apps.
Look forward to the release ?.
The photo above is of Mr.Kurahashi (tentative), a member of the MediBang Paint development team who can't draw, testing it out.
---
【This month's recommended brushes】
Dot2 Brush
Past MediBang News
▶︎MedibBang News Vol.1 Introduction of MediBang Paint Development Team Members
\ We are accepting requests for articles on how to use /
Download now for free
Download MediBang Paint