2021.12.24
MediBang News Vol.8  Research on the drawing environments of artists !
Hello!!✨
This is person No.4 of MediBang Paint's development team.
Aren't you curious about the drawing environments of other artists?
I've been super curious…
So, I decided to open a poll again !
This time on the artists' drawing environment !!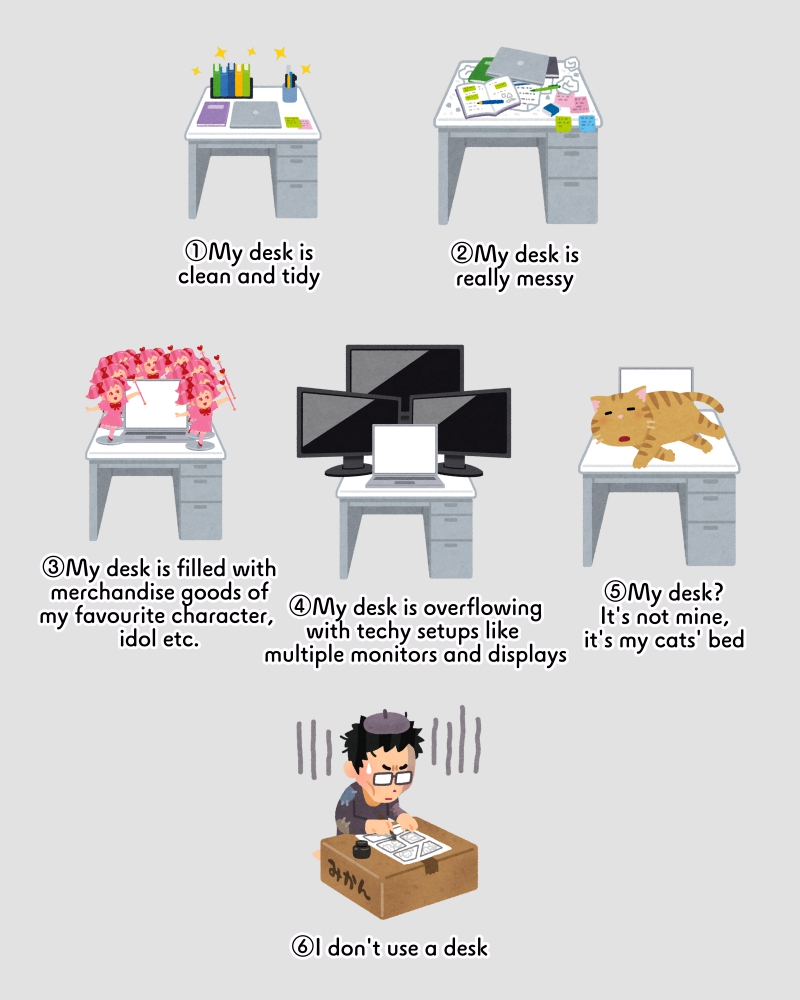 I received a total of 4223 votes on this poll.
Once again, thank you so so much !!
It was so much fun reading everyone's comments and responses.
So… let's jump right into the results !!
I hope you take note of these and compare with your drawing environment.
Maybe it might be (or might not be) useful for future reference.

These were the results.
| | | |
| --- | --- | --- |
| 1ST PLACE | ② My desk is really messy | 1905 votes |
| 2ND PLACE | ⑥ I don't use a desk | 860 votes |
| 3RD PLACE | ① My desk is clean and tidy | 791 votes |
| 4TH PLACE | ④ My desk is overflowing with techy setups like multiple monitors and displays | 280 votes |
| 5TH PLACE | ⑤ My desk? It's not mine, it's my cats' bed | 247 votes |
| LAST | ③ My desk is filled with merchandise goods of my favourite character, idol etc. | 140 votes |
In the 1ST PLACE…
「② My desk is really messy」 1905 votes

I understand… I really do…
Somehow we artists always end up with a jungle on our desk. WHY.
It's not like there is trash everywhere?
The desk just ends up in a mixture of random things I don't even know where it came from, with my usual tools.
Of course, person No.4 is the same. My desk is messy too.
At this point I can't concentrate with a clean desk…
It was meant to be, it was.
I'm super glad there are so many artists working in the same environment…
I no longer feel ashamed about my messy desk,
thank you everyone *sobs*
Next, 2ND PLACE:
「⑥ I don't use a desk」 860 votes
What…?!?!
I'm surprised this came in 2nd… Is everyone drawing on their phones or tablet…?
Or what if they are tough fighters with their PC placed directly on the floor ?!
I'm super curious now… If you are one of the PC on the floor artists,
please contact me…
And what I expected to be 1st or 2nd…
「① My desk is clean and tidy」
came in the 3RD PLACE (791 votes)
I really didn't think the jungle would overpower clean desks with more than 1000 votes.
The jungle residents really do keep surprising me.
And and, the one I was most curious about
「⑤ My desk? It's not mine, it's my cats' bed」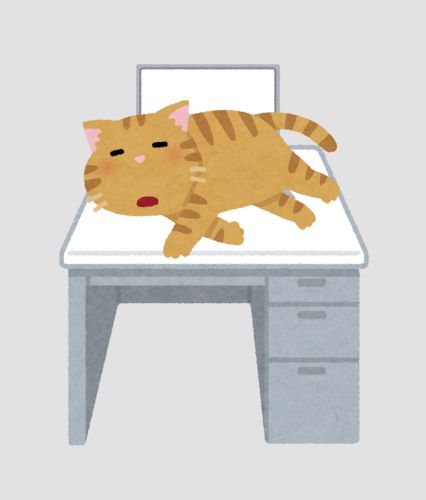 was in the 5TH PLACE (247 votes)
Artists = cats …!
So it's true… There are always cat lover artists…
I'm extremely jealous, send me to your place !
Breathing on cats gives all the energy artists need… Including me… I need this environment immediately.
Now I will be introducing the drawing environments I received in the responses !
※The images below are based on the imaginations of person No.4.
① Messy desk + Techy desk
A combination of wilderness and technology, feels grandeur.
② Messy desk + Techy desk + Merch desk
The full package.
③ Desk (knees)
No need for a desk.
My body is the desk itself.
④ I can't show my desk, it has to be censored.
Extremely messy, out of everyone's league. /neg A jungle desk.
▼BONUS▼
Let's see the desks of our employees.
MediBang Paint Developer: Takahashi's Drawing Environment
「Taken over by my kids. (Became a coloring space, not a drawing space anymore)
I thought it was messy but it's actually not that bad.
We have a hermit crab inside the fish tank」
By Takahashi
Designer: DAnd's Drawing Environment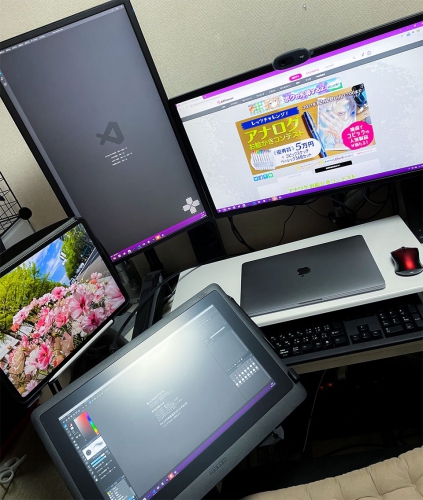 「2 monitors、1 display tablet、1 iPad Pro… a mechanic city on my desk !
I kept adding new things so I could draw, do software development and also my hobby all at once…」
By DAnd
Boss: Tany's Drawing Environment
*kitchen
That was it !
Did you find your working environment ?
Or the one you want to do ?
By the way, this is the last MediBang News for 2021.
In 2022, I will continue to deliver fun news that may or may not be useful for all the artists out there.
I hope you enjoy me sharing the relaxed mood~
See you next year !
Happy New Year~ ?
▼Next MediBang News Letter


January 21st (Friday) 2022 *JST
Past MediBang News Letter
▶︎MediBang News Vol.7 Research on the drawing posture!
▶︎MediBang News Vol.6 The secret to staying motivated…!
▶︎MediBang News Vol.5 Inside MediBang Premium 4-Koma Manga
▶︎MediBang News Vol.4 Featuring apps that motivate you to draw!
▶︎MediBang News Vol.3 Top 10 Recommended Working BGM on YouTube!
▶︎MediBang News Vol.2 ART street Posts Sharing Techinques!
▶︎MediBang News Vol.1 Introducing MediBang Development Team Members
\ We are accepting requests for articles on how to use /
Download now for free
Download MediBang Paint