2022.10.31
"Drawing Suits" 〜 Male Ver.
In this tutorial, I will be explaining how to draw suits for men.
I think there are many cases where you will be drawing suits so let's learn the important tips!
I will design a suit to fit the male body.
This is a "single suit".
Since suits are used to illustrate a clean look, don't draw too much clothing folds for when the character is standing straight.
If you draw in too many wrinkles, the suit will look worn out and lose its neat appearance.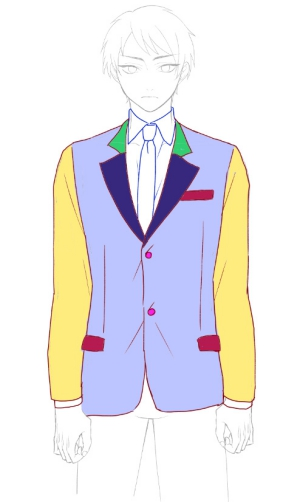 The above illustration shows each part of the suit.
Collar, lapel, cuffs, breast welt pocket, side flap pockets and buttons.
The vertical lines from the side pockets to the breast pocket are called "front darts" and they make the suits look graceful.
By drawing these two lines, the jacket will look very much suit-like.
The tip here is to also draw square corners for the shoulders instead of making them round.
This is how it looks from the side.
You want to be careful with the collars when you are drawing suits.
The top collars are positioned high around the neck.
This often happens when you are drawing suits without paying attention to the collars!
The cuffs usually have 3 to 4 buttons.
For blazers and casual jackets, there are cases with only 2 buttons.
These buttons for the suit are decorative parts without any particular role but it would be nice to remember the buttons when you are drawing illustrations of the suit.
The buttons are sewn on the outside, in other words, on the pinky finger side.
The jacket can have 3 buttons as well.
With 2 buttons
With 3 buttons
For suit jackets with 3 buttons, the "V Zone" becomes narrow which means you can see less of the tie and shirt.
The bottom most one tends to be unbuttoned for both jackets with 2 buttons and 3 buttons.
There is also the "double suit" in addition to the "single suit".
I will explain the differences using the images below.
Single Suit
Double Suit
The main differences between the two are the parts I circled above.
Double suit has a more formal look and you can paint a dignified impression.
I will then go over the tips for drawing suits once again.
Tip 1: Don't draw too many clothing folds for when the character is standing straight.
Tip 2: Draw with square corners for the shoulders.
Tip 3: Draw the top collars high.
Tip 4: There are buttons on the cuffs, on the pinky side.
This completes the tutorial for drawing suits for males.
(Text・Illustration/まかみひだり)
\ We are accepting requests for articles on how to use /
Download now for free
Download MediBang Paint