2022.12.05
【Weapon Design】Become a Weaponsmith ~Axe Edition~
I love fantasy settings.
Weapons throwing off sparks, magic spells flying back and forth.
Mysterious potions reviving lives.
From fights between humans to friendships across races and species.
I truly love the world of fantasy that we will never be able to experience.
Weapons, especially swords, spears and bows are all equipment created for hunting and fighting but there are also weapons produced for other purposes.
One of which, I cover today, is the axe.
Axes were used as the equipment for processing wooden materials like cutting down trees and chopping firewood.
While swords and spears went out of use with age, axes are still being used in their original role.
In this article, I will remake such axes to let them run around in the fantasy world. Oh no! (Axes are called "Ono" in Japanese)
I'm aiming to turn this article into a reference material to suggest various axe types to all of
you.
I hope this helps you with your future weapon design!
▼Become a Weaponsmith Season 1
【For Beginners】Become a Weaponsmith – Casting & Minting ~【Weapon Design】
【For Beginners & Intermediates】Become a Weaponsmith – Equipments 〜【Weapon Design】
▼Previous Article
【For Beginners】Become a Weaponsmith ~Using Tools~
【Weapon Design】Become a Weaponsmith ~Bow Edition~
【Weapon Design】Become a Weaponsmith ~Wand Edition~
Axe Types
As I explained earlier, axes are not actually used for fighting purposes.
That is why an axe made for fighting is called a battle axe.
In particular, small axes are called hand axes, which were used for throwing.
Just as single-handed axes exist, there are also two-hand axes.
Every weapon has various sizes available!
A long axe is much taller with a really long grip.
Though it is difficult to control as the center of gravity leans towards the heavy blade, the power of damage created from the centrifugal force was its speciality.
There are also various types for the shape of the blade.
The most easily recognizable part of the blade is whether it is single bladed or double bladed.
It is also interesting to see a double bladed axe with a different weapon on one side of the blades.
There is even an axe combined with the spear, called a halberd!
Casting
Starting with the usual: designing weapons with four attributes/elements!
I tend to struggle with the earth element but let's see how it went this time…?!
If you come up with a theme that highlights the main characteristic of the weapon itself, you will be able to create a very solid design.
In terms of the axe, it would probably be the "power".
I'm sure there are many different strategies you can work with.
As I mention in the explanation inside the image below, apparently knights surprisingly loved using axes as well.
For a blade proof armor, it was more effective to break it apart with the strong power of axes.
If knights owned an axe too, there must have been axes with gorgeous decorations?
 Equipping
After the weapon design comes equipping the weapon in different poses!
As axes were originally produced as processing equipment, they have been a familiar weapon from the early times.
I'm sure there must have been cases where people fought back with a nearby axe during an unexpected attack.
I personally think part of the reason why axes seem a little barbaric may root back to such familiarity.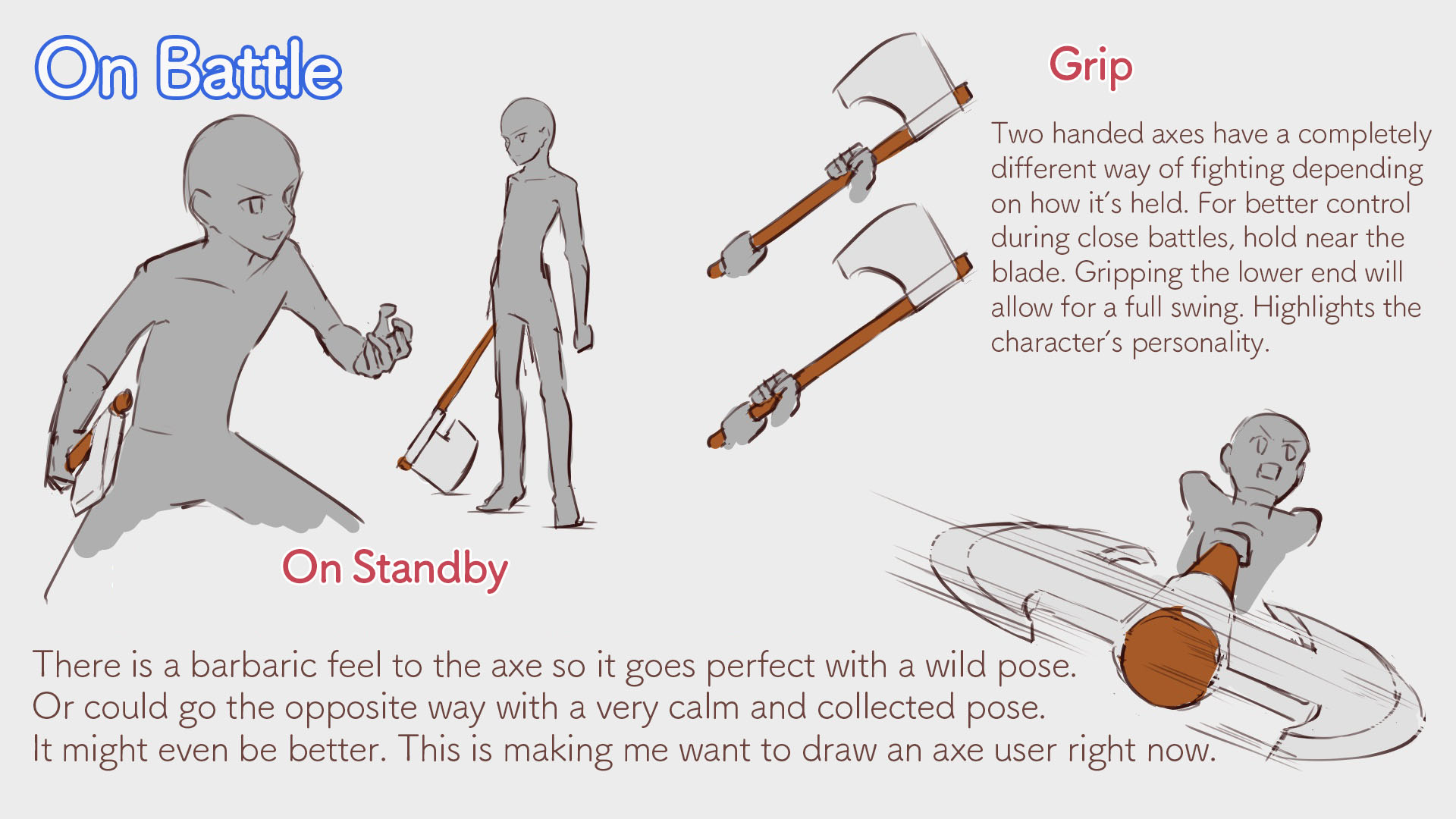 Most weapons are carried in a similar way but the main problem is always the blade.
Axes in particular have a very huge blade. It would be super dangerous!
I would give in if it had a long grip… but… this might be the most challenging.
This completes the weapon design!
It really depends on you whether you want to equip the weapons but I introduced them since
I have a feeling that most readers would want to imagine them with a character.
First the protagonistic sword, then the stylish spear and lastly the roaring rough axe.
I believe some of you fall for the character's background hidden behind its destructive power.
In short, weapons are a part of the character as well.
You can find your favorite from the weapon or the user/character. Both ways are valid.
I hope this article can contribute to the making of your attractive character!
Lastly, I refined one of the designs I liked, so I will include the image below.
Thank you for reading this tutorial!
(Text・Illustration/時計)
Twitter @Clock1231
\ We are accepting requests for articles on how to use /