To paint a picture in MediBangPaint, you must first make a canvas.
NOTE
Canvas: The area on-screen where you can actually paint your picture.
First, tap "New Canvas" in "Let's draw!" on the home screen.
If a window pops up asking you to log in, tap "RATE LATER" to close it.
Tap "New Canvas" again to move to the canvas creation screen.
Tap "EDIT" to alter width, height, dpi, and Background color.
For this example, we will try making a canvas in A5 size.
Tap "Paper Size" and select "A5(148 * 210mm)".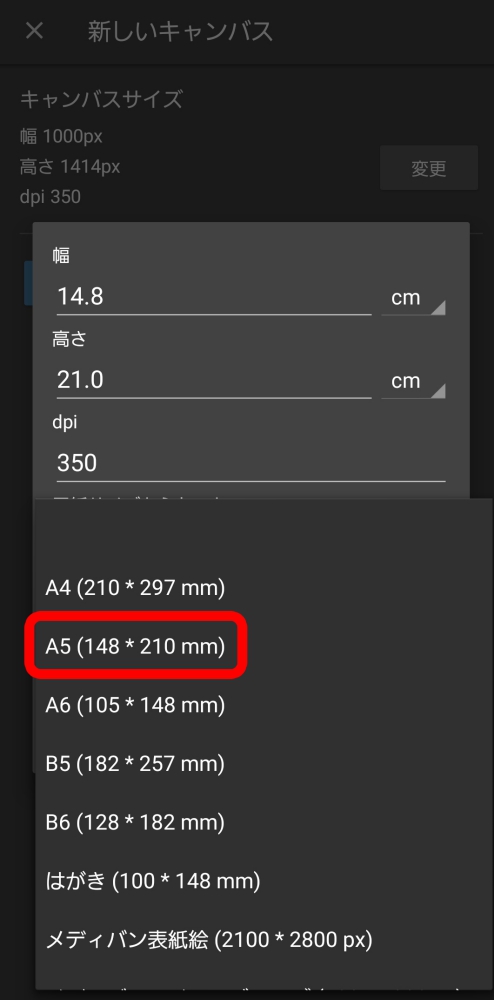 When you select A5, the width and height will automatically be set to 14.8cm and 21.0cm.
This completes our A5 canvas settings.
Tap "OK" and then "CREATE".
NOTE
When you first open the canvas screen, a simple explanation of the paint functions called "Quick Tour" will come up. Once you have read all of the instructions, tap close to close the window.
As seen here, once you open the canvas screen, your preparations to begin painting are completed.
NOTE
Canvas size can be set by paper size, as well as by hand, where you can enter any value you please. For a detailed description, please see
here
.