2021.10.22
MediBang News Vol.6 The secret to staying motivated…!
Good evening, everyone! I'm Takahashi from MediBang Paint Development Team. I'm make apps.

I've recently discovered how much fun it is to draw 4-panel comics, and I've been trying my best to make them even though I'm not very good at it. But when I post them on ART street or Twitter, I barely get any views at all.

Of course I'm just an app developer and I only started drawing 4-koma about a month ago, so it's not surprising. But since I've started posting my work, I want more views and praise from people. (That's assuming its any good.) Then, it hit me.



Why don't I just publish it in MediBang News?



So this time, I'm going to hijack the MediBang News!

But at the end of the day, I'm a good old salaryman so I'm not so ambitious as to suddenly publish my work on my company's media for my own personal gain (I might get grounded). So, under the guise of "informing users about the features of Mediban Paint, I'm going to present you with a 4-Koma introduction to the features of MediBang Paint.
(I'll be adding the tag "MediBang Paint Features".  )
▶︎MediBang Paint Features

So without further ado, here's the second installment of the MediBang insider's premium four-koma series!
Yes, so I made a cross brush for those who find it difficult to draw them?✨.
It's only available in MediBang, so please save the image and register the brush in the app to use it. (Sorry it's not a cloud brush) Please refer to here on how to register a brush and its parameters.
sincerely the MediBang Insider No.4
▼Image for brush registration

▼How to register brushes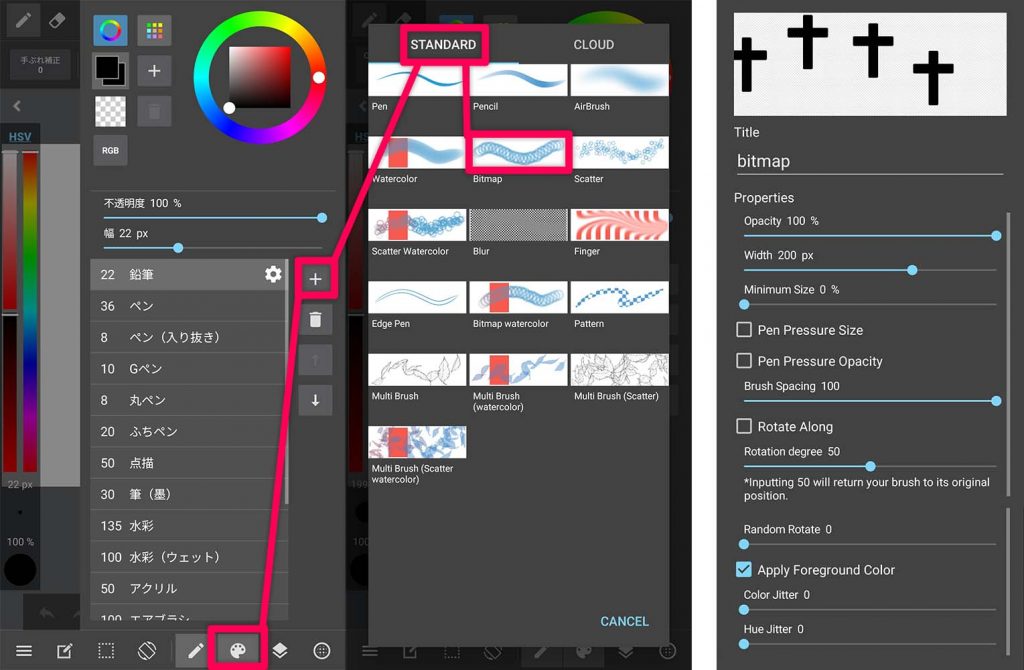 I hope you'll try using various brushes to draw Halloween illustrations and mangas. When they're complete, please post them on ART street and toher social media. Let me know and I'll check them out! If you draw an illustration explaining how to use MediBang Paint, please use the "MediBang Paint Function Introduction" tag as well.

Lastly, I'd like to tell you a little story about my workplace.

The two illustrators sitting behind me "

Oda-san

" and "

Insider No. 4

" are both painters of divine skills, but when I show them my drawings they praise and encourage me. They also give me good advice and kindly teach me on how to draw illustrations and use the tools. (The person sitting next to me, "

Mr. Satoh

" also compliments me. It's difficult for Mr. Kurahashi since he is seated far away from me.

They are great motivators for me when I draw. Before I joined MediBang I had never drawn pictures outside of school classes, but now everyone at work enocurages me (everyone is so nice!). Now I draw pictures regularly. So I am grateful for my environment.

If I just end my story here all of this might sound like I'm just boasting, but the reason I do this is to encpurage you all to find people around you that will support and teach you. They can be your parents, siblings, and friends.

I understand that for some reaching out to people is hard, so it might be a good idea to look for a painter you like on ART street and exchange comments with them first.

This is a good place to start.
https://medibang.com/u/MdbnTakahashi/

And that's the end of "Medibang Newsletter Vol.6". I'll hope to see you again next time.

This has been Insider No. 4, at your service.

-

Wow, I've been suddenly hijacked (laughs). This is MediBang Paint development team member No. 4.

I've been using the cloud brushes for a while now, and we've been adding more and more of them every month, making them even easier to use than before. (For MediBang premium)
We may create more cross brushes in the future, so keep those in check ?.


I'm also planning to release some free brushes in the near future, but I also have to make sure they are good enoguh for my boss' approval..



▼Next Mediban News Letter


November 19, 2021 (Friday)



This time, I used the "4-panel manga template" from the MediBang Library. Please try this one too ?.
Past MediBang News Letter
▶︎MediBang News Letter Vol.5 Inside MediBang Premium 4-Koma Manga
▶︎MediBang News Letter Vol.4 Featuring apps that motivate you to draw!
▶︎MediBang News Letter Vol.3 Top 10 Recommended Working BGM on YouTube!
▶︎MediBang News Letter Vol.2 ART street Posts Sharing Techinques!
▶︎MediBang News Letter Vol.1 Introducing MediBang Development Team Members
\ We are accepting requests for articles on how to use /
Download now for free
Download MediBang Paint