2023.03.09
Practice drawing facial expressions!
Three training methods for drawing facial expressions
Drawing facial expressions is not a simple and straightforward task.
So today we are going to look at the methods for practicing facial expressions.
Using the expression chart
If you want to practice facial expressions, the first thing you need to do is draw lots of them!
So look at this. This is what I have prepared for you.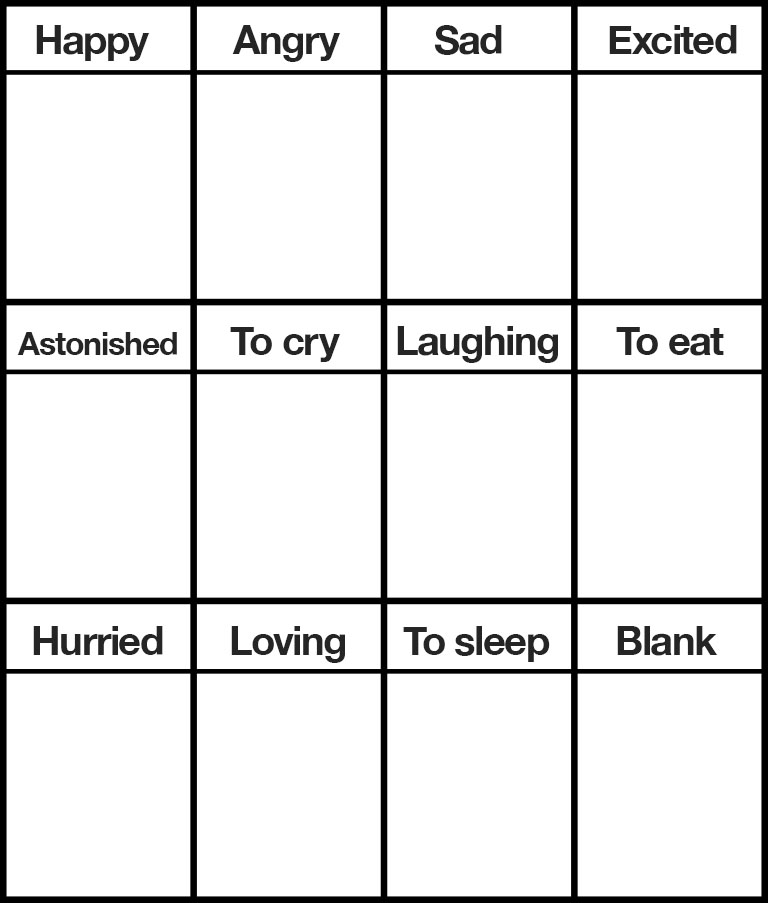 The expression chart!
I've got the basic expressions on it.
Now let's fill in the blanks with drawings!
Like this.
Be aware of the difference between the similar expressions, "Happy", "Excited", "Laughing" for instance.
Then polish the drawings to…
complete them!
Creating such a large number of works should give you a great sense of achievement.
There's more to recommend as a training method.
Looking in the mirror
You can also practice by observing your own facial expressions in the mirror.
Where are the wrinkles in your face?

How do your eyebrows move?
Look carefully to learn the structure of your face.
If you find it difficult, you can take a selfie and draw with the photo.
Do it in the way that you prefer!
Referring to film or anime scenes
Actors in films and characters in anime are professionals at expressing emotion.
The slight changes of emotion on their faces and how they express them are worth studying as reference material.
You might discover something you didn't expect.
Conclusion: Drawing facial expressions is fun, try different methods
Here is the chart material we have used so far.
I have left the bottom two lines blank so that you can use them as you wish, for example, to write down your preferred emotions or to draw the different illustrations for the same emotions of "happy, angry, sad and excited".
To conclude the article, let me repeat the methods.
Using the expression chart

Looking in the mirror

Referring to film or anime scenes
Practicing drawing facial expressions is really fun, so I hope you will try different ways of practicing!
(Text・Illustrations/ つかさん)
\ We are accepting requests for articles on how to use /
Download now for free
Download MediBang Paint