2019.08.01
Use Correction to draw beautiful lines!
Do you ever feel when you are making digital illustrations that "it's hard to draw lines like I want to" or "I can't draw lines beautifully"?
That's when "Correction" comes in handy!
It automatically corrects when the hand shakes so you can draw beautiful lines!
Currently, we are working on the PC Windows version but the same feature is available for PC Mac, iPad, Android, and iPhone.
What is Correction?
Correction is a function that corrects the shakiness when drawing lines.
Without Correction, lines can get shaky or flabby and you cannot draw lines dynamically.
With this feature though, you can draw straight and smooth lines.
How Correction functions
A Correction adjustment bar is found right under the menu.
Please note that larger the Correction value, the stronger the correction will be which will delay the drawing speed.
How different is it using Correction?
Let's compare illustration with no Correction and illustration with Correction as an example.
When there is no Correction,
Lines can get shaky
Hard to draw lines in a single stroke so the lines are not dynamic
It does not look very good
Those are the tendencies.
However, depending on the illustration style, no Correction may be easier to produce a rough style.
On the other hand, with Correction,
You can draw smooth lines
You can draw dynamic lines in free strokes
It looks good
Those are the characteristics.
Use Correction when drawing lines of human portraits!
Correction is most effective when drawing the lines in human portraits.
With no Correction drawing human portraits ▼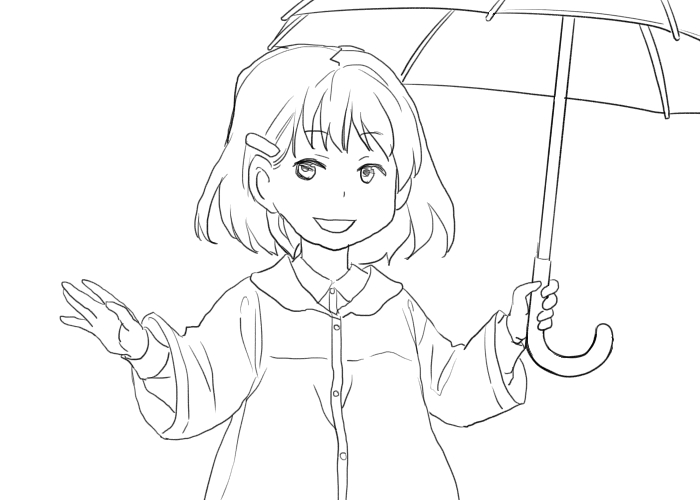 With Correction ▼

▼Here are tips on how to draw better lines▼
「You can do it in 5 minutes – a 3 step technique to increase the quality of your lines!」
Summary
Correction method and characteristics were explained here.
To summarize, Correction
can be adjusted by adjustment bar under the menu
the higher the value, the stronger the correction
when the correction is strong, the drawing speed gets slower so it can cause a lag
Please remember these points.
Be sure to try out Correction when you want to draw precise and accurate lines!
\ We are accepting requests for articles on how to use /
Download now for free
Download MediBang Paint