2022.07.15
Let's draw your best Manga using Fonts!【For iPhone】
With Cloud Text, you can use various manga fonts and create many character expressions.
In this article, I will explain how to use Cloud Text in MediBang Paint for iPhone.
How to use the fonts in MediBang Paint for iPhone
How to add text
Tap the icon in the upper left corner of the screen.
When the menu appears, tap the text tool icon.
Then click "Add Text".
The text input screen will appear, and you can type in the text or lines you want to include.
Enter the text and tap "Done" to display the text on the screen.
If you want to correct the words or add a sentence, tap the pen symbol on the left side to bring up the text input screen you saw earlier.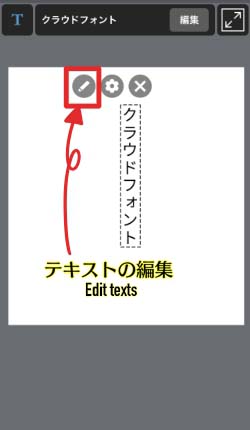 Tap the settings icon (gear symbol) in the middle of the screen when you want to change the text settings such as vertical or horizontal writing.
This will bring up the Text Tools screen.
How to use the Text Tool
The Text Tool has the following settings
Text size
Font Type
Text Spacing
Line Spacing
Rotation
Border Width
Paragraph
Vertical Writing
Italics
Bold Text
Text Color
Edge Color
Round the corners of the edge
Let's look at them one by one.
(1)Text size
You can change the size of the text.
(2)Font Type
You can change the font type.
To change the font, tap the gear icon.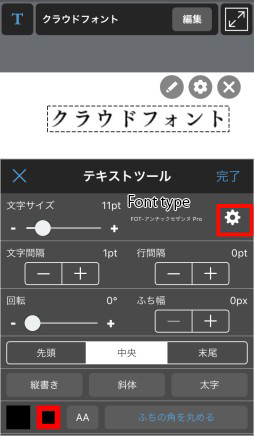 You can view a list of cloud fonts.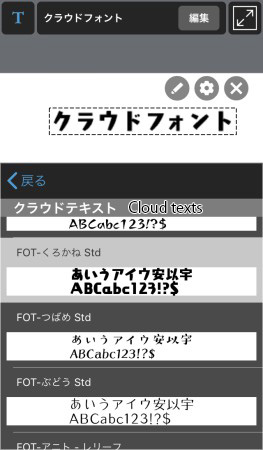 (3)Character spacing
(4)Line Spacing
(5)Rotation
(6)Border Width
This is useful when you want to add a border to the text.
If you don't want to add a border, set it to 0px to remove it.
How to change the color of the edge is described later in section(12)Color of the edge.
(7)Paragraph
You can align lines at the beginning, center, and end.
Beginning
Center
End
(8)Vertical Writing
You can write text vertically.
(9)Italic (font style)
You can italicize the text.
(10)Bold Letters
You can make the texts bold to emphasize them.
With the font アンチックセザンヌ, the difference between bold and non-bold is as shown in the image below.


(11)Color of the letters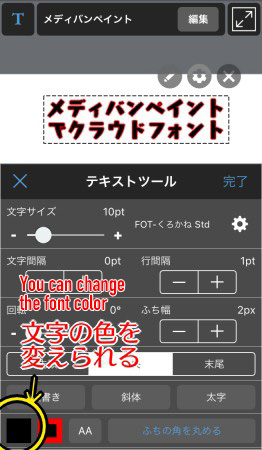 Tap to display the color circle.
Just change the color to the one you want to display and press "Done".
(12)Color of the edges
(13)Round the corners of the edge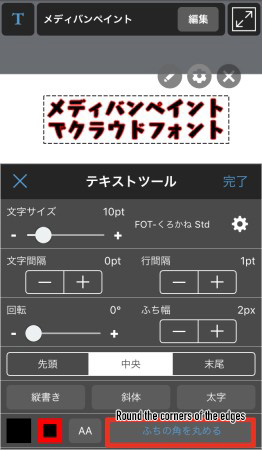 Rounding the corners of the edge makes a difference as shown in the image below.
This is how to use Cloud Fonts on the iPhone version.
Let's use Cloud Fonts to draw comics!
(Text・Illustrations/吉田セツ)
\ We are accepting requests for articles on how to use /
Download now for free
Download MediBang Paint