2022.07.25
Let's Try Using the Functions(Applications)【For iPhone】
This article will describe the various function settings of MediBang Paint for iPhone.
Open Settings
Tap the three-line menu icon in the lower left corner and select "Settings".
When you open the settings, you will see the settings screen for the following five main categories.
Shortcut Preferences

Pen Pressure settings

Multi Touch Gesture settings

Stylus Pen Adjustment

Turn Retina Display Off
Shortcut Preferences
Next, let's set up the shortcut settings on your iPhone.
When you open the shortcut settings, the following image will open.
Turn on the tool you want to display and it will appear in the shortcut bar.
Once you have turned it on, press the "X" button on the upper left to return to the screen, and the setting is complete.
The tools you turned on in the settings are now displayed in the shortcut bar.
Pen Pressure settings
On the iPhone, you can use a stylus pen (sold separately) to set pressure sensitivity.
Stylus pens include the Wacom and Adonit stylus pens, and the Sonar pen, which connects to the earphone jack.
Please note that stylus pens cannot be used with some device models you are using.
Make sure that your stylus pen is compatible with your device model before purchasing.
For more information about the stylus pen, please refer to the following article:
Operating environment and release notes
Multi Touch Gesture Settings
Next, let's take a look at multi-touch gestures.
Multi-touch gestures are operations that can be performed by touching the screen simultaneously, such as two-finger dragging and two-finger pinching.
By setting up multi-touch gestures, you can perform various operations more quickly.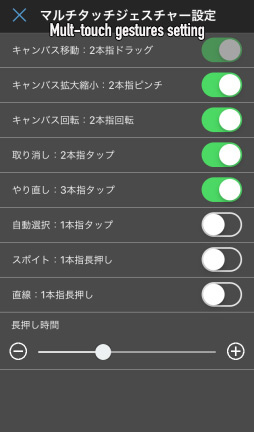 Stylus pen position adjustment
When using the stylus pen, you should set the position adjustment.
Select "Stylus Pen Positioning" from the settings, and you will see a screen like the one in the image below.
If there is any misalignment when you put the pen tip on the screen, you can use this position adjustment to set the pen tip and standard to match.
Turn Retina Display Off
Retina is Apple's original ultra-high quality display used in Apple products such as iPhone and Mac.
If you turn on the Retina display in MediBang Paint for iOS, you can view your illustrations in high quality.
However, if you are concerned about battery drainage or slow processing, you can disable it.
And that concludes the explanation of the various function settings in the iPhone version.
(Text・Illustrations/吉田セツ)
\ We are accepting requests for articles on how to use /
Download now for free
Download MediBang Paint