2021.09.27
[For Beginners] Find a cute pose from Bust-Up Illustrations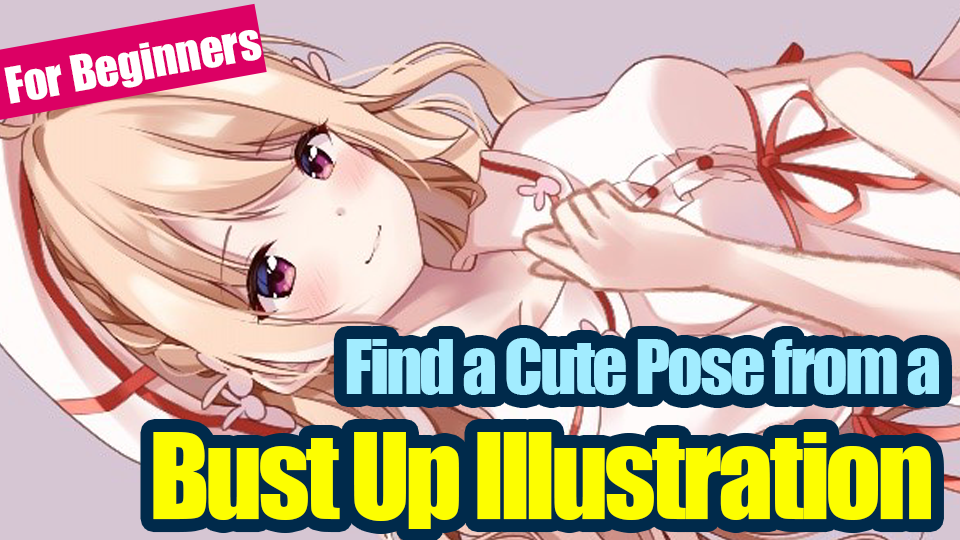 What kind of pose do you take when you take a bust-up photo?
If you stand straight like a pole, it looks like you're taking a profile photo, right?
This is where you can be careful when you draw illustrations.
Today, I'd like to introduce two points that you should pay attention to when drawing a bust-up illustration of a girl.

First, let's look at how to choose the orientation of the head and upper body.
× Head and upper body facing front.
◯ Create an angle
・First, try turning the head and upper body to face the same direction.
・Tilt the head slightly to increase cuteness.

In my previous article "How YOU can draw a girl's face in a cute way", I showed you how to draw a girl's face facing forward, but I don't really apply it when it comes to actual illustration because I feel it's too stiff, like a identification photo.
With practice you will be able to draw the face in many different orientations, so keep practicing.
I started with the head and upper body in the same direction, keeping the girl's gazing towards us.
By doing this I can create depth and easily divide the image into the part in the foreground that I want to draw the eye to and the part that I don't.
Next, let's make the head and upper body face different directions.
★ S-Shape Pose
A pose in which the head and upper body are not facing the same direction but in different directions, creating an S-shaped curve.
S-shape illustrates glamour and curvaceousness when illustrating girls.

This kind of pose is called an S-shaped pose, in which the lines of the body form an S-shaped curve.
It emphasizes a girl's unique gamour abd curvaceous beauty, and also makes it easier to express motion.
Try flipping the rough body image left and right, and adjust it to the appropriate angle while aligning the head with the central axis to make it look natural.
Be careful not to overdo it, or she will end up like she's about to fall over.
Once you've added the angle, you're still standing on a stick because there's no movement in your hands…
So, using the versatile "head and upper body facing the same direction" pattern as an example, I'll explain the second point: how to draw the hand movements.
I painted the girl from the rough lines on the left to the colored picture on the right.

For the sake of explanation the drawing order had been reversed, but I always start thinking on which to draw roughly, left hand or right hand.
Altering the pose after painting and coloring will lead to a waste of time, so to avoid redoing things, think carefully at the rough stage and decide the pose.
Let's start with the right hand in the foreground, where we want the viewers to notice.

In the three pictures above the right hand is in the foreground, so the right hand entirely determines the impression of this character.
First, let's look at the three patterns with the hand near the chest.
① is the most basic hand pose.
This is what I often use when I don't have special pose I want to draw but just standing straight is lacking.
② Rest her hand on her chest.
This pose is recommended when you want to draw attention to her chest.
③ Maker her hold her index finger and point at her conversing partner.
The picture is that of a charming and dainty "kouhai" junior who likes you.
If you put her index finger on her chin, it can be taken as if she is thinking about something.

④ Let her wave her hand towards you.
If she waves her hand that is close to you, it will give impression or cheerful girl, whereas if she waves her hand behind her body, it will giver her an introverted personality.
⑤ Let her brush up her hair.
I think this is one of the popular pose for illustrating beautiful girls.
Maker her more gorgeous by putting in big effort in her hair details and motion.
Next, let's see on how to draw the hand movement behind her body (left hand).

I want to emphasize the foreground as much as possible since this is a bust-up illustration, to make her backhand pose a little inconspicuous.
① Let her press her hand against her dress
Imagined the hem of her dress swaying in the wind, and she holds it down with her hand.
This is also a self-protective hand motion, which can hint about her introverted personality.
② Let her rest her hands on her chest
Compared to the same pose of the right hand, this one feels more relaxed.
It can also emphasize her curves and sensuality.
★Lastly, I combined the movements of the left hand with those of the right hand.
You can easily express a character's personality even if he/she is standing straight.
And It would become better if you adjust the expression to match the pose.
That concludes the introduction to the concept of poses when drawing bust-up illustrations.
In addition to the orientation of the head and body, changing the pose of the hands is also effective.
If you really can't think of a pose you want to draw, try moving your own body in various ways while facing a mirror!
Try to find the cute gestures of a girl that you like!
(Text and pictures by Depe)
Twitter / https://twitter.com/depe874
ART street / https://medibang.com/u/depe874/
\ We are accepting requests for articles on how to use /
Download now for free
Download MediBang Paint